4 Tell-Tale Signs You Could Use a Reiki Session
Posted on December 1, 2014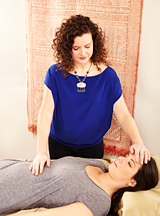 Over the next few months, I'll be putting together a Beginners Series of articles for people new to Reiki (or who want to learn more about it). In this article, I'll talk about what Reiki is, how it's different from other kinds of integrative therapies, and what problems it can help you with (including 4 tell-tale signs you could use a Reiki session).
What is Reiki?
Reiki is a hands-on healing technique from Japan and means "transcendent life force" or "spiritual energy." The practice of Reiki guides this "Ki," or energy, that surrounds and permeates every living thing. In Chinese, it's referred to as "Chi" or "Qi"—acupuncture and martial arts are examples of other disciplines that work with this life force energy that is in each one of us.
Reiki enhances wellness by helping your body balance itself, and enables you to take an active role in your health.
How is it different from other integrative therapies?
One of the major ways Reiki differs from other healing modalities, is that the practitioner isn't directing the energy, or making decisions about what your body needs. The practitioner cultivates and works with Ki, acting as a channel for your body to take in what it needs to balance itself.
What can Reiki help me with?
Here are 4 tell-tale signs you could use a Reiki session:
1. Balance: You're feeling out of balance in your life or with your health. For example, maybe you're feeling too emotional, crying for no reason, or alternately, maybe you don't feel in touch with your emotions, you feel flat or unmoved when good or bad things happen.
2. Intuition: Your intution is off and you don't know what to do. For example, maybe you feel too swayed by others' opinions, or when you try to make a decision you feel like your fears are interfering with your decision-making process.
3.  Stress: You're feeling really stressed and find it hard to switch off even during down-time or when it's time to go to sleep.
4. Major-Life Change: You're in the middle of a major life change, be it a health challenge, a recent break up, moving to a new place, or changing jobs, and you feel stuck or have trouble moving forward.
Reiki helps balance and shift your energy, and this shift allows you to get in touch with yourself in a deep, profound way. As a Reiki practitioner, I don't heal people. Rather, the Reiki session enhances your access to yourself, and the healing unfolds from this inner connectedness.
Have a question about Reiki? Send it my way and I'll answer it in the series. You can also read more about Reiki here and here's a past article about what I learned about Reiki from my 95-year-old grandfather (he's very wise!)
You can book here if you're ready to experience Reiki for yourself.
Have something you want to change or work through, and you're not sure if Reiki can help? Let me know and we can discuss it. I'm here to help!