Free Weekly Meditation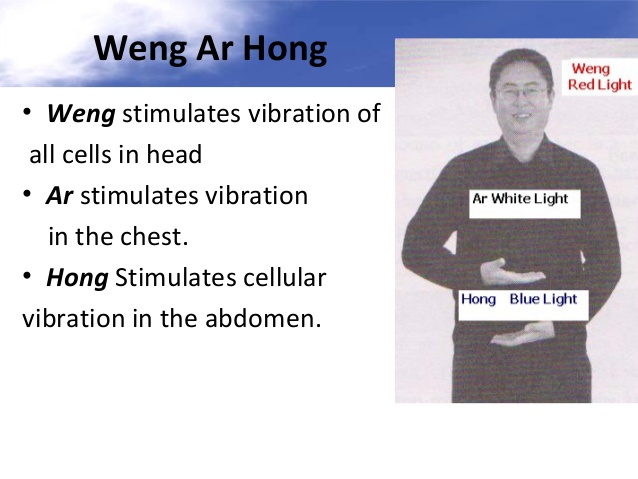 Free Weekly Live 15-Minute Meditation:
Weng Ar Hong
Weng Ar Hong is an ancient Tibetan chant. It vibrates the 3 major areas in the body, balancing the cells and organs for the qi or energy to flow. It's a wonderful practice for any health condition to unblock the qi in the body or to prevent illness.
The power of mantra: "A mantra is a special sound and a special message that carries power for healing, blessing, and life transformation. There are many renowned ancient mantras, including Weng Ar Hong."
–Dr. and Master Zhi Gang Sha
Refer to the image above to help you visualize.
Weng:  visualize red at the head, vibrates in the head
Ar:        visualize white at the heart, vibrates the chest
Hong:   visualize blue at the abdomen, vibrates the lower abdomen
The left hand cups under the abdomen not touching.
The right hand faces up by the diaphragm not touching (face the hand down if you have cancer, high blood pressure, or are prone to migraines).
These hand positions help direct the flow of energy in the body.
Feel the connection to Heaven and Earth.
Ideally, the practice is done standing but sit if you need to. We'll do it for 15 minutes (you can do it for 5 minutes or up to 2 hours.)
Here's some feedback:
The experience is stress relieving. This meditation makes me feel very comfortable especially with all the fear in today's world. –U.M.
I really love the short meditation sessions. The current practice is very beneficial to me. I usually sit for many hours due to my work and don't do enough physical activities, and this is why my brain shuts down from time to time and then I can't work anymore. I have to go to a park and walk for a couple of hours to come back to normal. However, I discovered during our meditations that the Weng Ar Hong practice could be a quick fix for my brain to function effectively and efficiently. Thank you. –Eugene Gorodnitsky
This mantra, Weng Ar Hong, is so powerful. I feel grounded and relaxed after only 15 minutes of meditation and chanting. Thank you. –J.K.
To Join the Call:
Join FreeConference.com Meeting:
https://hello.freeconference.com/conf/call/2526469

One tap mobile:
+1 605-562-0400,,2526469#

Dial-in using your phone:
United States: +1 605-562-0400
United States: +1 425-436-6260
United States: +1 712-832-8330

Access code: 252 6469

Connection Test:
https://hello.freeconference.com/system/test
Don't worry if you're feeling shy–no one will see or hear you–you'll only hear my voice guiding you. Feel free to invite others to join us!