Building A Powerful Practice:


Successful Strategies for Your Wellness Business

The process of creating and building a wellness business can be baffling, and is rarely covered in training courses. In this wise and accessible guide, Deborah Flanagan shares insights gleaned from her own experiences, plus advice from other accomplished practitioners and teachers.

Want a preview before you purchase? Download a sample chapter and free Business Starter Kit.
Learn all about 10 Things Nobody Tells You About Starting Your Own Business.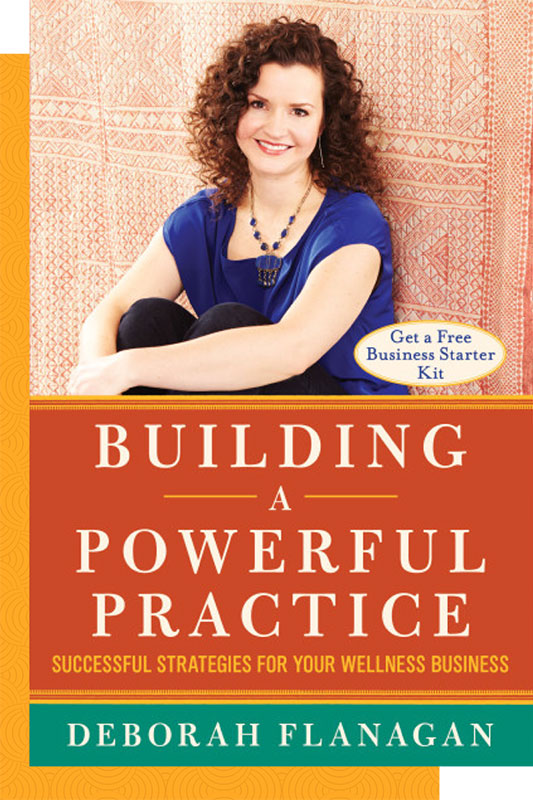 Make a Living Doing Work You Love
Find out what prompted Deborah Flanagan to write Building a Powerful Practice and how it can help you create a successful healing arts business.
An Essential How-To Guide
You will discover how to:
Make a career transition with ease
Find clients in person and online
Market to your ideal client base (even if you don't think you like marketing)
Find the right office space to grow with your practice
Handle the financial aspects of your business (setting your rates, budgeting, and dealing with taxes)
Build your confidence and avoid burn out
Apply practical tips and case studies from successful practitioners
The free online Business Starter Kit includes templates you can use to manage clients, build an electronic mailing list, and keep track of income and expenses.
Whether you're just starting out, trying to build your client base, or figuring out how to make a living doing work you love, Building a Powerful Practice is the blueprint.
Like author Deborah Flanagan herself, this book is down-to-earth, practical, and clear while still being compassionate, heart-centered, and light. Deborah tells it like it is without preaching a one-size-fits-all approach.
She offers a series of questions for practitioners to ask themselves about various aspects of the business side of wellness work while emphasizing the natural evolution of any solo practice. I look forward to recommending this book to my own professionally minded students. I picked up a few ideas and inspirations for myself as I read, as well. Highly recommended.
Alice Risemberg, Reiki Teacher, Reiki Pulse Roseville
Deborah generously shares her best tips for success (and timesaving templates), alongside those of a diverse range of established practitioners, to help you attract the right kind of clients and grow your business in the right direction, while respecting self-care and heart-centered business practices.
She draws from her experience of transitioning from a full time office job to the founder of Center for True Health, to support your transition in a way that is true to you. The whole section on boundaries was so valuable to me. I still find this challenging, but I will really keep hold of the concept of an ideal client as a way to let other less ideal ones go painlessly and without trying to make them work when they aren't. This little gem contains a plethora of relevant advice, practical actions, and lessons learned to help you establish your successful wellness business in the best way possible for you.
Nicola Wardhaugh, Restore|Me, Scotland
Building a Powerful Practice is a thorough and comprehensive guide to creating and building your own wellness practice. Deborah shares practical and do-able marketing and business-building information, and breaks it into manageable chunks.
The stories she shares from her experiences as well as the experiences of other wellness practitioners mentioned in the book add to and clarify the reality of building this type of business. The questions she offers at the end of each chapter help you to define and clarify your own path and help you see there isn't a cookie-cutter, one-size-fits-all approach to creating your business. This book is a wonderful resource if you are just starting your own wellness business, as well as if you are in need of a little extra support and inspiration as you grow your business. Deborah's warmth and knowledge come through in each chapter, and her experience helps de-mystify the process of where and how to begin.
Beth Tascione, E-RYT 200, Reiki Master, Yoga Bliss
With simplicity, candor, warmth, humor, tremendous knowledge and experience, Deborah shares countless insights as well as those of her colleagues to provide a solid and accessible framework that any new practitioner can follow.
Deborah is an inspirational Reiki practitioner who also became my Reiki teacher. Now she has written a comprehensive guide which answers the many questions and concerns I have had about creating and nurturing my own practice.
Barbara Becker, Reiki practitioner, Jersey City/NYC