Posted on January 12, 2016
I've been busy making plans for the year ahead and getting organized. This is my third year using the Create Your Shining Year Workbook & Calendar: it's a powerful and inspiring tool to help you focus on accomplishing your dreams and goals in a heart-centered way.
This is my #1 planning tool; I don't know what I did without it.
It's a workbook. One for you to write in and fill out. (hard copy or e-book, whichever you prefer)
There's two versions: the LIFE + BUSINESS versions. (I use both.)
Above is a photo of my lovely friend Pam–we met last week to finish filling them out. It's great to meet with a friend to help you stay accountable; we meet quarterly to check in on our progress and brainstorm future plans.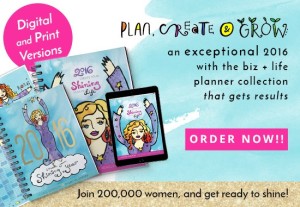 Need help transforming 2016 into an incredible year for your life or biz?
These workbooks/calendars can help you set goals (and have fun) for the year in all areas of your life:
    financial
    health
    relationships
    creativity
    career
    education
    family
If you're an entrepreneur it will help you create an easy, awesome business plan for 2016 including:
    income goals
    income streams (i.e. products and services)
    your business mission statement
    marketing goals
    staffing goals
    customer service goals
    social media goals
    and a lot more
Only buy the workbooks (for under $10–you can't beat that) and use them if you want to be:
    happier
    more abundant
    creatively fulfilled
    totally on purpose
Sounds good, right? I've received so much positive feedback from people who are using it. Check it out.
Here's to a fabulous 2016!
P.S. Did you miss the post: 5 easy tools to help you start the new year right?