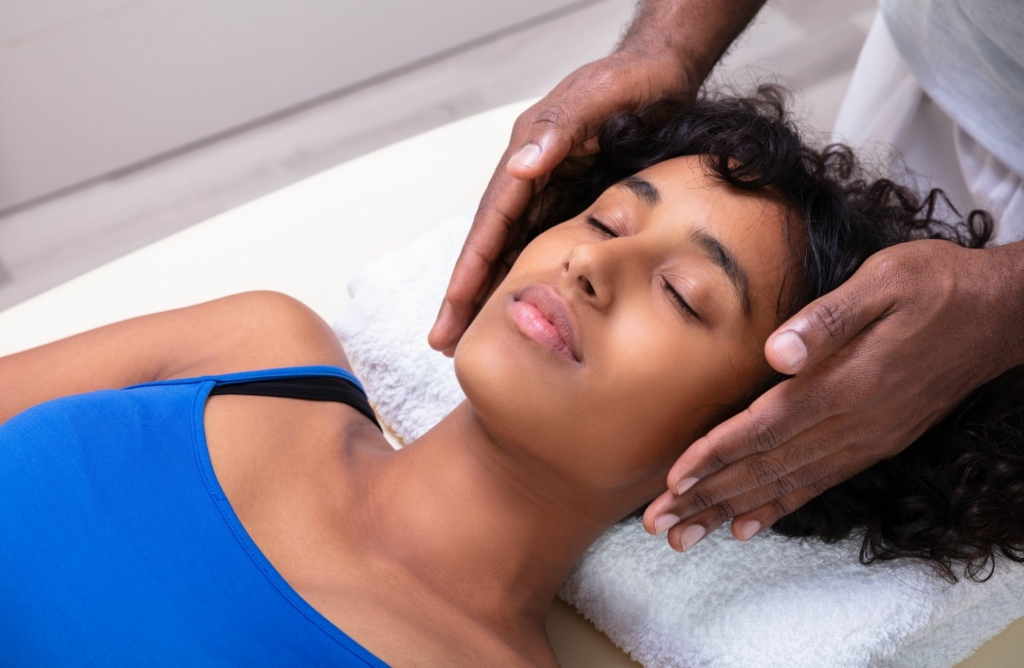 Can Anyone Learn Reiki?
This was a big question for me when I was thinking about taking a Reiki class years ago. I thought maybe only people with a special gift could learn Reiki, and I was more than a little nervous on my first day of class.
Can anyone be a Reiki healer?  The short answer is yes–anyone can learn Reiki. (Reiki is a hands-on healing technique from Japan and means "transcendent life force." The practice of Reiki guides this "Ki," or energy, that is a part of every living thing.)
Hands on healing is our natural ability (just think about how you feel better when someone gives you a hug or holds your hand). The question can Reiki be self taught or can you teach yourself Reiki is more nuanced. There are some considerations which I explore below.
Find out more below about the difference between getting a Reiki session and learning to use Reiki on yourself, the types of Reiki training available and the different levels, if you can teach yourself Reiki, how to teach yourself Reiki, and how to become a professional Reiki practitioner.
What is the Difference Between Receiving a Reiki Session & Learning Reiki?
Many clients have asked me this question, and it's a good one.
Receiving Reiki sessions can be wonderful and a great source of support and guidance. (I receive sessions regularly from my mentors and long-time teachers.) It can be invaluable to have the objective support of an experienced Reiki practitioner. Also, the more you work with Reiki energy, the more powerful your ability, so receiving Reiki from a practitioner with years of experience and a strong meditation and spiritual practice will amplify its effects.
If you have an interest in going deeper, learning Reiki can become an empowering daily self-care practice. Learning Reiki allows you to take your healing into your own hands (literally) and go deeper with a daily mindfulness practice.
Type of Reiki Training & Levels
Traditionally, there are 3 levels of Reiki training: beginner, intermediate, and advanced–Reiki I,  Reiki II, and Reiki III (Reiki Master) classes–as well as additional teacher training if you want to teach Reiki classes.
Training for each level varies from 1-2 days to spreading out training over a longer period of time. Ideally, it's ideal to have ongoing support so you can start to make Reiki a daily habit, as well as have the opportunity to ask questions with the guidance and support of the teacher and your fellow students.
Can You Teach Yourself Reiki?
Sometimes clients tell me they notice they have a healing ability but they feel overwhelmed by it, or they feel worried or unsure about how to use it. So while the answer to can Reiki be self taught is yes, having formal training can provide more solid support.
Reiki classes give this natural ability a structure and foundation, allowing you to expand your innate capacity. Additionally, in the formal system of Reiki the transmission or attunement is passed from teacher to student. It can also be more efficient and effective to have a teacher's wisdom so you can avoid common pitfalls. Having expert guidance can also be helpful whenever you're learning something new.
Once you've learned some basic techniques, you'll have the ability to give yourself a mini-Reiki session and practice simple Reiki meditations every day, contributing to your own healing.
Here's an article about 5 benefits you'll notice in your life by learning Reiki.
How To Teach Yourself Reiki
While my professional recommendation would be to find a qualified Reiki teacher (here are the top questions to ask). Here are some DIY techniques you can use to teach yourself Reiki: I explore how to do Dry Bathing, Hands-on Practice suggestions, and the Reiki Precepts. And here are my favorite books about learning Reiki. 
How To Become a Professional Reiki Practitioner
If you want to become a professional Reiki practitioner then the answer to can Reiki be self taught is no. To be able to handle the various issues clients come to you with (which can sometimes be quite intense), it's even more important to have a solid foundation and comprehensive training to give you the practical skills, confidence, and mentoring to ensure your success.
This leads to the question can anyone become a Reiki Master. While yes, anyone can take the proper Reiki training and acquire the skills to be a professional Reiki healer, learning the business side of running a professional practice is an additional skillset.
See if your advanced Reiki courses offer training on the business side of practice building. Here are 10 things I'd wish I'd known when I started my Reiki business. I wrote Building a Powerful Practice: Successful Strategies for Your Wellness Business to give new wellness practitioners a clear-cut, how-to guide to help you set up your Reiki business.
Whether you become a Reiki practitioner or not, receiving Reiki sessions regularly is a great way to take care of yourself and balance your energy. It also allows you to understand the work from the inside out through your own personal healing experience.
Try This
Book a virtual session if you could use support with a particular issue, or just need a dose of relaxation. I serve clients internationally using Distance Reiki (also referred to as Virtual Reiki or Online Reiki healing.) Also, many clients who have studied Reiki sometimes have questions about it, so if you like, as part of your session we can discuss your daily Reiki practice, using it with friends and family, or as a professional practitioner.
I work with clients all over the world using an intuitive combination of Distance Reiki, Tao Hands, Virtual Hypnosis, and flower essences.  Join a virtual Soul Healing Event or download from the library of Soul Healing Recordings around the most popular themes and topics.
I look forward to supporting you!