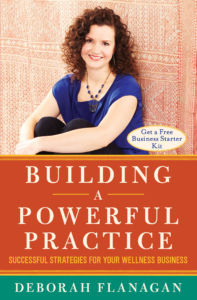 I just published a book–Building a Powerful Practice: Successful Strategies for Your Wellness Business. Yikes! It took 3 years but at long last it's finally done.
How This Book Can Help You
The process of creating and building a wellness business can be baffling, and is rarely covered in training courses.
In my book I share insights gleaned from my own experiences as I built my practice from the ground up, plus advice from other accomplished practitioners and teachers from a range of modalities including Frans Stiene, Gary Strauss, Melissa Tiers, and many more. Lots of wisdom from this group!
This guide shows you how to:
–make a career transition
–find clients in person and online
–market to your ideal client base (even if you think you don't like marketing!)
–handle the financial aspects of your practice
–build your confidence and avoid burnout
I also created a free online Business Starter Kit with practical and easy-to-use templates you can follow to manage client data, build an electronic mailing list, and keep track of income and expenses.
Whether you're just starting out or want to expand your existing practice, this book is the blueprint. It's ideal for wellness practitioners of any flavor–massage, Reiki, reflexology, hypnosis, acupuncture, Shiatsu, Tao Hands, astrology, polarity, cranial sacral, etc.
You can read more about it and buy it here. And if you know someone who might find this book helpful please help spread the word. (It also makes a great gift!)
P.S. I would be honored if you would leave a review on Amazon and/or Goodreads. Thank you and I hope you find it useful. Here's to your successful practice!
P.S.S. Watch the video about what prompted me to write this book.