A Powerful Tool to Take Charge in the New Year
Posted on January 16, 2014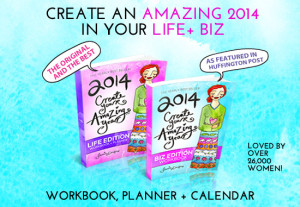 Happy New Year!
This is a great time to reflect on the past year and plan the new one.
I recently discovered a powerful tool to help you take charge in the new year.
I've been using it in my own life, as well as with my business, and I've found it to be a huge help.
If you're looking for a tool to help you be more inspired, productive, and happier, I highly recommend Leonie Dawson's 2014 Create Your Amazing Year Workbook & Calendar. There are two versions: a life version and a business version (I got both!)
Truth be told, at first I was a little wary of her sequins and sunshine personality. But don't worry, she's the real deal.
In fact, one surprising discovery: Leonie's unicorns and butterfly personality is already helping me figure out ways to enjoy my life and relax more, as well as enjoy the dreaming process of setting goals and moving forward. More ease and fun!
The Amazing Year Workbook & Calendar is such a great tool if you're wanting to get your life in balance (with you at the center). And if you have your own business, it's a painless and fun way to plan and dream big.
Here's to an amazing 2014–onward and upward for a great year ahead. And let me know how these tools help you, I'd love to hear….