Tips for Your Reiki Practice
Posted on November 17, 2017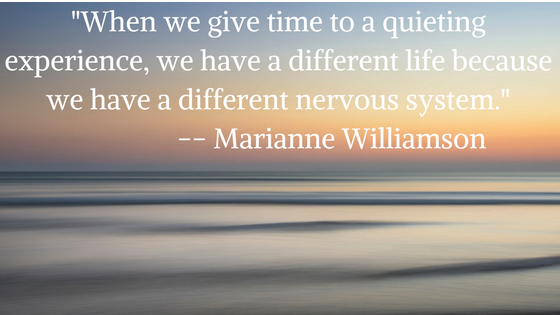 This quote by Marianne Williamson reminds me of Reiki. Learning Reiki and doing our daily Reiki self-care practice is such a simple way to shift out of fight or flight, sympathetic nervous system dominance, into rest and digest, parasympathetic nervous system.
How can you do this in only a few minutes? Let me count the ways….
Hands on practice, Reiki self care protocol
Dry bathing
Purifying breath technique
Hand breathing technique
Reciting the Reiki precepts
Drawing the symbols learned in Reiki II & III
Let yourself settle into yourself, into the quieting experience of Reiki.
A few minutes (or more!) every day will change your nervous system, balancing and calming it, and over time, you will change your life. Perhaps you're already noticing this…
One of my favorite things about Reiki is noticing the subtle yet powerful changes in my life. How about you?
Dry Bathing Technique
Are you using the dry bathing technique in your daily life? It's such a flexible tool: Some people use it to begin and end a self care session or a session for someone else. Others use it throughout the day—before leaving home, at the end of the work day, as a pause between different activities or projects; it's like hitting the reset button.
Remember when you do this technique that it facilitates the downward flow of energy, and this grounds you, helping you to be more in your body.
Excess Mental Energy
I've been thinking a lot about the energy in the head versus the rest of the body. Headaches, jaw tension, and eye strain are all signs that there is too much energy in the head. In our modern life we focus on mental energy so much, and this has only increased with the use of smart phones, tablets, computers, etc.
What are other ways you can redistribute the energy in your head to the rest of your body? (Hint: your daily Reiki self care protocol and the purifying breath technique.) Others ways include: physical activity, being in nature, taking a bath….what ways work best for you?
Bonus: Another grounding technique is to hit the bottoms of your feet for a minute or two with your fist.
Want more ideas? Here's a list of 25 ways to stay grounded.
A Message
Here is a message I received for you during my morning meditation:
Dear Reiki students, your interest and attention to spiritual practice is appreciated. Do what you can each day to center your heart, mind, and body. There are many ways to do this. Take the time, put in the effort, notice the benefits. You are so loved.
Remember you can always place your hands on your body and give yourself Reiki for a minute or two. Breathe deeply and let it connect you deeper still.