How Reiki Can Improve Every Aspect of Your Life
Posted on September 27, 2013
When I think back to when I took my first Reiki class over 8 years ago, I had no idea it would change my life so dramatically. (And I definitely didn't think I would be a Reiki teacher and practitioner.)
I can truly say it has improved (and continues to improve) every aspect of my life.
The quote from a recent student below reminds me of all the ways my Reiki practice helped me make positive changes. Some examples:
Health: I overcame an "incurable" thyroid diagnosis.
Relationships: I was able to finally change some long-held negative relationship patterns and meet someone who is perfect for me. (I love you, JT! And no, that doesn't stand for Justin Timberlake!)
Career: I made a huge career transition and found fulfilling work I truly love.
Finances: I found myself spending and needing less.
Time: I stopped rushing from one thing to the next, and even started arriving on time.
Creativity: I started writing and publishing my poems after a long hiatus, and have a book coming out next year.
Now this list isn't something that magically changed the day after my first Reiki I class. And there have definitely been ups and downs, because life isn't a straight line. But being able to have a simple way to take care of myself by giving myself Reiki each day has been profound. I always knew meditation was good for me, but found it so difficult to stick to a daily practice–Reiki was just the thing.
Reiki is a great way to manage stress and promote healing for yourself and your loved ones.  It's easy to learn and practice and you literally have the ability to heal yourself with your own hands 24/7. People often ask me what to expect from taking a Reiki I class and I tell them about 5 major benefits.
Are you interested in a simple, daily practice to help you find balance in all aspects of your life? You can sign up here.
Reiki Beauties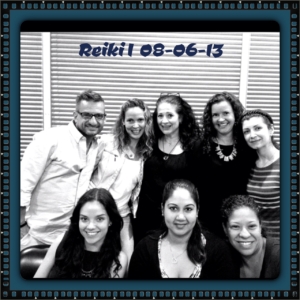 This is a photo of the most recent Reiki I students. We had a lot of fun, and most of them just finished Reiki II last week.
I always love hearing how my students transform and grow as a result of incorporating Reiki into their daily lives.
Here's what one student had to say: I loved the Reiki I course! Interestingly, all of us seemed to be going through some transitions in our lives, and I was really amazed at how this work positively impacted so many aspects of my life. I immediately felt that my health benefited – breathing became so much easier and my yoga practice became deeper and more rewarding. I also feel like it allowed me the ability to communicate in a more articulate manner – and from an honest and inspired place – which has made me a better teacher in my work and partner in my relationship. It's also easier making decisions and feeling good about my choices, and as a result some wonderful and exciting new things are happening.
I am continuing to practice Reiki on myself and my family (including my dog and cats) and we all love it. It has really brought a lot of peace into our home.
I highly recommend this course. I had no idea the results would be so profound! –Annmaria M.