Posts Tagged 'learn reiki'
Posted on November 17, 2017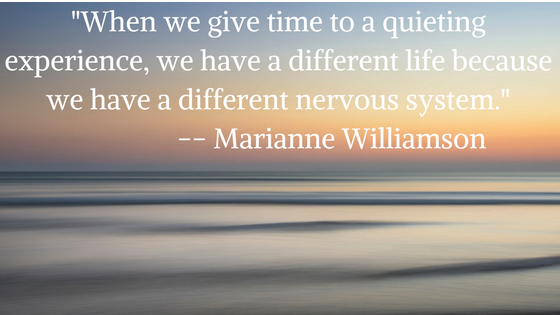 This quote by Marianne Williamson reminds me of Reiki. Learning Reiki and doing our daily Reiki self-care practice is such a simple way to shift out of fight or flight, sympathetic nervous system dominance, into rest and digest, parasympathetic nervous system.
How can you do this in only a few minutes? Let me count the ways….
Hands on practice, Reiki self care protocol
Dry bathing
Purifying breath technique
Hand breathing technique
Reciting the Reiki precepts
Drawing the symbols learned in Reiki II & III
Let yourself settle into yourself, into the quieting experience of Reiki.
A few minutes (or more!) every day will change your nervous system, balancing and calming it, and over time, you will change your life. Perhaps you're already noticing this…
One of my favorite things about Reiki is noticing the subtle yet powerful changes in my life. How about you?
Dry Bathing Technique
Are you using the dry bathing technique in your daily life? It's such a flexible tool: Some people use it to begin and end a self care session or a session for someone else. Others use it throughout the day—before leaving home, at the end of the work day, as a pause between different activities or projects; it's like hitting the reset button.
Remember when you do this technique that it facilitates the downward flow of energy, and this grounds you, helping you to be more in your body.
Excess Mental Energy
I've been thinking a lot about the energy in the head versus the rest of the body. Headaches, jaw tension, and eye strain are all signs that there is too much energy in the head. In our modern life we focus on mental energy so much, and this has only increased with the use of smart phones, tablets, computers, etc.
What are other ways you can redistribute the energy in your head to the rest of your body? (Hint: your daily Reiki self care protocol and the purifying breath technique.) Others ways include: physical activity, being in nature, taking a bath….what ways work best for you?
Bonus: Another grounding technique is to hit the bottoms of your feet for a minute or two with your fist.
Want more ideas? Here's a list of 25 ways to stay grounded.
A Message
Here is a message I received for you during my morning meditation:
Dear Reiki students, your interest and attention to spiritual practice is appreciated. Do what you can each day to center your heart, mind, and body. There are many ways to do this. Take the time, put in the effort, notice the benefits. You are so loved.
Remember you can always place your hands on your body and give yourself Reiki for a minute or two. Breathe deeply and let it connect you deeper still.
Posted on April 1, 2016
There are many different kinds of Reiki teachers and classes, and it's important that you find the best class and teacher for you.
I recently wrote an article about the top questions to ask to find a qualified Reiki teacher. I realized it might be useful to answer these questions in relation to my own Reiki teaching style, to help you get a sense of me and my approach.
1.  How long was my Reiki training, and how long have I been teaching?
I started studying Reiki in 2006, and I completed a 600-hour Reiki training through the New York Open Center. I started co-teaching at the Open Center in 2010, and then started teaching my own classes in 2012.
I'm a registered practitioner and teacher of the Shibumi International Reiki Association, which reflects my emphasis on the traditional Japanese roots of the system of Reiki. I continue to study with Frans Stiene at the International House of Reiki (he's often referred to as the Reiki teacher's teacher), and I practice Reiki meditation and self-care daily. You can read more about my Reiki Master lineage and about me and my background.
2.  How long are my Reiki classes?
At the Center for True Health, I want you to have time to make Reiki a daily habit (which is the whole point of learning it!), as well as feel confident about what you learn. I spread out Reiki I and Reiki II classes over the course of three weeks, and the Reiki III advanced training takes place over the course of four months.
This way you have the opportunity to ask questions, integrate what you learn, and have the ongoing support of the class. Practice is essential to learning, and I want to make sure you leave the training with a solid foundation and understanding of Reiki.
3.  Do you offer a certification process?
I offer optional certification requirements for those students interested in seriously pursuing their Reiki studies. Certification requirements include practicing daily Reiki self care, giving and receiving a certain number of sessions, and completing written assignments. The certification after the class concludes offers you a structure to help you to continue to integrate what you learned in class into your daily life.

4. What is my teaching style?

I strive to make every student feel comfortable and supported throughout the class, using a combination of humor and connection to my spiritual self. I create a safe environment where anything that is shared in class is kept confidential by all participants. My Reiki trainings are interactive and experiential, addressing the various learning styles of all students (visual, auditory, & kinesthetic) with a combination of hands-on exercises, guided meditations, short lectures, and spiritual healing principles.
5. Do I offer ongoing training and/or practice nights?

I offer all three levels of Reiki training: beginner, intermediate, and advanced–Reiki I,  Reiki II, and Reiki III (Reiki Master) classes. This provides you with continuity if you decide to continue your study of Reiki. I also offer Reiki Reunions, which give you the opportunity to practice what you learned after you finish your Reiki class, as well as offering a sense of community and ongoing support.
Sign up for my class newsletter to find out about upcoming trainings and Reiki Reunions.
6. What is my personal practice?

I practice daily Reiki self care and meditation. The more I work on my own healing, the more I have to offer you as a student. Besides, I have to walk my talk!
If you're considering taking a Reiki class in New York City and have additional questions, please let me know. You can contact me with any questions.
P.S. Did you miss this recent post about if anyone can learn Reiki?