Roundup: Tips & Tools to Inspire
Posted on November 9, 2016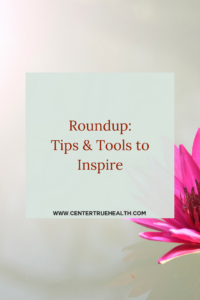 How are you doing?
I don't know if you're feeling it, but between the change of the seasons people seem a little more stressed than usual.
I know I've also been seeing more clients lately who are dealing with major life changes, especially around career and relationships. (Need a session to help? Book here and let's figure it out together.)
Here are some tips and tools to inspire you and hopefully give you a soft cushion to feel a little more ease no matter what is going on in your life. (And feel free to share with me what's inspiring you right now.)
Reflexology self-help gadgets
Karen Ball, a wonderful reflexology teacher, found a new self help gadget (if you know me, you know I'm ALWAYS looking for new gadgets to try and my feet are pretty happy about this).
And here's a past article I wrote about some more of my favorite reflexology gadgets.
Youtube channels to follow
I recently had a client ask me what Youtube channels I recommend. She loves listening to Youtube for relaxation and inspiration. Here is my channel.
Check out who I subscribe to (in the left sidebar). I especially love Gabrielle Bernstein's heart-centered talks, Master Sha's powerful healing, and Doreen Virtue's love and unicorn sparkle!
And I have a few Youtube videos with self-help reflexology techniques you can do for various issues including PMS, colds/flu, and back pain.
How to maximize your session in under 3 minutes
Pam Herrick is one of the wonderful practitioners I interview in my book, Building a Powerful Practice.
Here's a great blog post she wrote to share with her clients—and she gave me permission to share it with you! She includes a free journal prompt that you can use after your sessions with me (or any other wellness session). It will help you maximize your session in under 3 minutes. Let me know how it goes.
How to access your inner wisdom
I've been following Susannah Conway for the past year, as well as taking some of her fabulous e-courses. Like Susannah, I truly believe the answers we seek can be found within each of us, and that deep down we know what's best for ourselves. Here's a good article on how to access your inner wisdom.
Your breath
The one resource you ALWAYS (hopefully!) have with you. Take a couple deep breaths now. Inhale through the nose, exhale through the mouth, letting go of anything you no longer need.