Reiki Level II
I am no longer offering Reiki training; please sign up to learn about future classes. Thank you!
If you've taken Reiki I and are interested in deepening your experience and enhancing your understanding of Reiki, Deborah offers Reiki II classes at her Chelsea office in New York City.
Reiki II Class Details:
Dates: Tuesdays, TBA
Time: 6-9pm
Location: 135 West 29th Street, Suite 604A, NYC
Investment: $375 (includes Reiki II manual)
Prerequisite: Complete Reiki I at least 21 days before Reiki II begins. (It's not necessary to have taken Reiki I at the Center for True Health.)


The more you practice Reiki, the more you're able to peel away the negative layers that can accumulate from living life, connecting to your true nature.
Read about 7 reasons to take Reiki II.
Deborah is an extremely gifted Reiki master and teacher.  She has a very gentle, caring presence and creates positive energy around her.  She taught me a great deal about the history and practice of Reiki, and how to make it your own.  It can enhance and heal one's day-to-day existence." — Barbara B., Jersey City, NJ
Frequently Asked Questions about the Reiki II Class:
When does the training take place?
Reiki II consists of 3 classes, which take place in the evening (6-9pm) over three weeks, giving you time to integrate and practice what you learn with ongoing support. This class is offered in an intimate, personalized setting.
Do I need to have taken Reiki I at the Center for True Health?
It's not necessary to have taken Reiki I at the Center for True Health.  Regularly practicing Reiki self treatment is important before beginning the Reiki II training. We will briefly review elements learned in Reiki I the first night of class.
What type of Reiki do you practice?
I was trained in both Eastern and Western traditions of Reiki, and I blend the two with emphasis on the traditional Japanese teachings. I meditate and practice daily Reiki self care. You can read more about my Reiki lineage here.
What will the Reiki II training cover?
Here's what you'll learn and experience:
Strengthen your ability to use Reiki to heal yourself and others
Learn the Absentee Reiki healing technique (also referred to as the Distance Healing Technique, and often a favorite!)
Practice a basic table protocol to use with friends/family (you'll give & receive a full Reiki session)
Deepen your understanding of energy by working with 3 symbols and 3 mantras (to help you work with different kinds of energy)
Receive 3 attunements to increase your ability to transmit Reiki
Listen to guided-imagery meditations to help you sense energy and connect to the Reiki symbols and mantras
Does this training offer certification?
There are optional certification requirements at the end of the class including: attending all classes, practicing self care, giving and receiving a certain number of table sessions, and completing a brief written assignment.  Students have one year from the date of the last class to complete these requirements. Once completed,  you'll receive a beautiful certificate.
Will I be able to practice professionally after Reiki II?
The focus of Reiki level II is using Reiki with friends and family. Once you have completed Reiki II training, you can take Reiki III (Reiki Master training) to deepen your understanding of Reiki and/or to prepare you for professional practice.
To take Reiki II as a way to further invest in your health and well-being, sign up or contact Deborah with any questions.
Attendance Policy for Reiki I, II, & III Certification & Class Cancellation Policy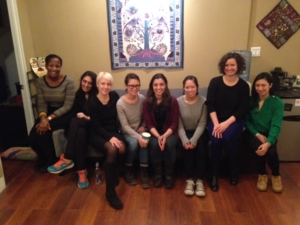 Here's what past students say about their experience in Reiki II:
I loved the class and can feel that the Reiki energy is flowing through me much more strongly than it was before. It also really helped me get back on track with the self-care. –Sarah K.
I loved last night's Reiki class. I was knocked off my feet with the experience. Thanks so much–can barely wait for the next class. –P. I.
Thank you so much for class! I cannot wait for Reiki III! You are an amazing teacher and my life has changed dramatically already! So thank you again! –Diana O.
I've taken Reiki I and II with Deborah, and I loved them both for different reasons. Reiki I was definitely more of an intro, and gave me the knowledge and foundation for self care, which has been extremely helpful in my daily life. Reiki II was even more fascinating; I learned more about giving Reiki to others. I loved meeting the people in my classes, learning why they were there, hearing their experiences, and feeling what their energy brought to the class. Deborah is a great teacher–so incredibly knowledgeable with a very calm energy. I am a better, calmer, and more level "me" because of Reiki. Since the class my clients tell me daily: "You look great." I truly attribute it to the peace I found in myself from meditation and Reiki. An amazing experience all around. –L. D.
I loved my experience from Deborah's Reiki I class that I jumped at the opportunity to take the Reiki II class soon after. I had already taken Reiki I and II classes a few years ago somewhere else, but hadn't practiced as much as I wanted and felt I needed to reconnect with local practitioners. I spent some time researching Reiki Masters in the area and was looking for a teacher who I felt I would connect well with.  From the moment I visited Deborah's website, her warmth and awesome energy came through and when finally meeting her in person I was not disappointed.  The class was exactly what I have come to expect from Deborah, fantastic!  She has a way about her that makes everyone feel at ease and creates a class that is open and comfortable.  I have learned so much from Deborah that has kept me motivated to continue to cultivate my practice. If you haven't taken a class from Center for True Health yet you are really missing out! –Kelly B.
Whether you have a private session or take classes with Deborah, Reiki is an empowering way to take care of yourself, enabling you to connect with your inner wisdom and find true health.