Virtual Hypnosis Sessions
How Do Virtual Hypnosis Sessions Work?
In advance of the session, you can let Deborah know what you want the hypnosis session to support. For example, you can request help with a challenge, goal, or physical issue. Hypnosis is a powerful tool for many issues including: anxiety and depression, public speaking, insomnia, writer's block, pain relief, fertility, and confidence/peak performance.
At the beginning of the session you'll go over the Intake Form if it's your first session, and tell Deborah more about what you want the session to support. She personalizes each session based on your individual needs, and follows up with you afterwards. In addition to the formal trance, she teaches you self-hypnosis techniques, such as EFT and NLP, that you can use to extend the effects of your hypnosis sessions.
Can You Get Hypnotized Online?
Yes, there's no difference in the effectiveness between in-person and online hypnosis.(Other than the bonus of being able to relax during and immediately after the session in the comfort of your own home).  Zoom will be used for the session (unless you prefer phone). You're able to lay down or lean back, resting comfortably as you experience hypnosis. (There's an other added bonus: if you like, you can take a nap after the session for deeper integration).
You can schedule your virtual hypnosis session here. It's 90-minutes for your first session, and an hour for subsequent appointments. (Read more about what hypnosis is, how it works, and the benefits.)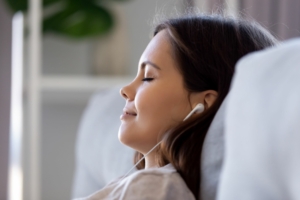 Does Online Hypnosis Work?
Deborah has offered virtual hypnosis sessions with clients all over the world since she first started her practice in 2008, and will use Zoom for the session. Many clients who previously received in-person sessions have been pleasantly surprised by the positive effects of virtual hypnosis sessions. There is no real difference in the effectiveness of online hypnosis sessions and in-person, and many clients prefer them.
How To Get Hypnotized Online:
Here's how to prepare for your online hypnosis session: set aside time for the session when you can focus and be in a place that offers quiet and privacy. A comfortable chair, sofa, or bed to sit or lie down (head support is recommended) is ideal to help you get in a relaxed state of mind.
Additional suggestions to prepare:
Have headphones handy.
Make sure you're in a space where you won't be interrupted (even by your pet).
Turn off your phone or anything that makes a sound.
Go to the bathroom beforehand.
If you wear glasses, take them off when we do the formal trance work so you can be more comfortable.

When Is A Virtual Hypnosis Session Appropriate?
Deborah has served clients from all over the world, and virtual hypnosis sessions are ideal in terms of flexibility, allowing you to experience a session in the comfort of your own home or office and relax afterward. Here is a list of ways virtual sessions can be more potent than in-person.
Here's what clients are saying about virtual hypnosis sessions:
 Deborah is absolutely amazing–I very enthusiastically recommend her to anyone looking for hypnosis and/or Reiki.  I have had three virtual hypnosis sessions with her and am blown away both by the personal results I am seeing and by Deborah's kindness, enthusiasm, skill, and acceptance.  She is able to personalize each session perfectly by taking careful and compassionate consideration of whatever you're going through.  I have been repeatedly amazed by the results, especially for someone with a very analytical (and sometimes critical) mind.  She also recommended Bach Flower Essences, which I was skeptical of at first, but which have helped tremendously once I started using them. Highly highly recommend seeing Deborah! " — Brooke T.
I've had multiple sessions with Deborah (in person and virtual) and both have been equally potent. The virtual hypnosis sessions were powerful, I easily relaxed into them. As well, I have had separate Reiki / Tao Hands sessions and I felt shifts in my body and energy after the sessions. Deborah is very attentive and calming, and gives so much helpful information as well as different flower essences to work with. The most recent distance hypnosis session I had was very deep and even nicer because I could rest on my bed after the session! " — Yaz Q.
I had 1 in person and 2 virtual hypnosis sessions with Deborah to deal with some trauma. Prior to my in person session, I had never had hypnosis before and did not know what to expect. I instantly noticed a lift in my self esteem, which is what I was dealing with. As time passed and was starting to feel down I did virtual hypnosis sessions and have never felt better. And honestly the virtual sessions may have been even more powerful. Deborah takes the time to learn about what you are dealing with. Then, she provides you tools and healthy ways of working through." — Cait B.
We do virtual sessions via Zoom and they are extremely powerful. I love being able to process our work together in the comfort of my own home. I just booked my fourth hypnosis session with Deborah and am feeling more aligned, peaceful, and happier than I've been in months. After every session I feel stronger, have better boundaries, and am able to communicate in effective ways. I have more clarity and compassion while cultivating self-respect and self-love." — Nitu P.
The way online hypnosis works complements the way Reiki, Tao Hands, and Flower Essences work.
Interested in a combination of Reiki Distance Healing with your virtual hypnosis session? Deborah often intuitively combines her sessions and gives you the option when you book.