My #1 Stress Relief Techique: EFT
Posted on July 14, 2015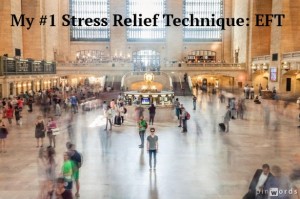 I hope you're enjoying the warmth and sun of summer. I'm in the midst of planning my teaching schedule for the fall (stay tuned for the next Reiki I, II, and III course dates, as well as a fall Reiki Reunion workshop). I'm also finishing writing a book to help new wellness practitioners, Building a Powerful Practice. Lot's of things in the pipeline!
Ever feel overwhelmed by stress? This image of Grand Central seemed an appropriate way to express that feeling. (If you've been there during rush hour then you know the feeling!)
If you've been with me for a while, then you already know my favorite (and fast!) way of relieving stress and negative emotions: EFT (Emotional Freedom Technique or Tapping).
Haven't been using it and want a refresher? Or want to learn more about it?
Here are some past posts on EFT to help you:
First things first: What is EFT?
Here are some tips to using EFT effectively.
Frequently Asked Questions about EFT from clients.
And a personal post on how EFT helped me overcome my fear of public speaking in a big way.
And I'm here if you want to book a session  to discover how to personalize EFT for whatever issue you're dealing with, or to go over it again if you need a refresher.