Love & Light Healing Book Club
The Love and Light Healing Book Club is a monthly meditation night led by a lovely and powerful teacher, Hui-Ling Lin. Each month, we'll select a book by Master Sha and pick a chapter to dive into for self-healing.
In this hands-on, interactive meditation practice you will:
Learn 6 power techniques for self-healing and serving others.
Participate in practices from a selected chapter from one of Master Sha's books (no need to read in advance, we'll guide you through it together).
Learn moving meditation with Tao Calligraphy to heal and transform health, relationship, career, and financial challenges.
Tao Calligraphy Tai Chi Movement is a gentle form of exercise that engages your entire body and musculoskeletal system. It uses slow, graceful, flowing movements, similar to Tai Chi. The focus is on balancing and energizing from within the foundational energy center in the body (known as the core, hara, or lower dan tian in the lower abdomen).
The movements are based on the artistic flow of Tao Calligraphy (Oneness writing), relaxing the muscles so the body moves more freely. Practicing regularly fosters calmness in the spirit, clarity in the mind, and greater self-awareness in the body.
Details:
TBA
Virtual using RingCentral (link will be sent after you register)
Book: Tao Calligraphy Field (No need to read it in advance, we'll guide you through it.)
Come with an issue that you want to heal (past participants have come with issues ranging from insomnia, being more present and grounded, relationship challenges, back pain, and anxiety, to give you some examples).
Here's feedback from recent participants:
The Love & Light Healing Book Club has helped me realize a whole new world of soul connection. It's given me the confidence to overcome fears that have immobilized me for many years, some for decades, and has helped bring peace between my husband and me, after 7 years of anger. Thank you." — Julie S.
A wonderful way to take care of yourself!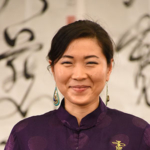 Dr. and Master Hui-Ling Lin 林卉靈 is currently the co-director of Master Sha's Tao Healing Center in San Francisco. She is a certified Master Teacher by the Tao Academy, Tao Calligraphy Grandmaster Teacher, Tao Calligraphy Grandmaster Practitioner, and an appointed traveling teacher. Hui-Ling is currently the co-coordinator of Qian Shou Qian Yan (1,000 Hands and 1,000 Eyes) Guan Yin Lineage Holder Training program under the Tao Academy. She is also a certified yoga teacher of various styles and holds a PhD, Interdisciplinary Studies & Institute for Gender, Race, Sexuality, and Social Justice from the University of British Columbia. She is fluent in English and Mandarin.