Letting Go: Embrace the Present & Soulfully Step into Possibility
The focus of this Group Soul Healing Pop-Up is to help you if you feel:
Anxious about the future, or around upcoming decisions or changes
Depressed about past events in your life
Stuck in the past with feelings of regret, guilt, or nostalgia
Ready to release old behaviors, patterns, mindsets, or beliefs that no longer serve you
Like you're languishing when you think about the future
You could use support as you embark on a new goal, chapter, project, or major life change
Want an affordable self-care option you can listen to again and again
Potential benefits to look for & notice:
Being in the flow of your creativity
Feeling more hopeful and resilient as you make positive changes
The ability to step into your next chapter with the confidence of your own soul's guidance
Increased motivation to move forward with passion and purpose
An enhanced connection to your intuition & inner wisdom
Feeling more balanced in your emotions

Time Stamps for the Recording:
[Time Stamp: Intention Setting 2:40]
[Time Stamp: Mini-Movement Exercise Snack 5:16]
[Time Stamp: Soul Tapping Technique 6:04]
[Time Stamp: Deep Soul Healing 11:14]
Journal Prompts, Experiments, & Meditative Reflections
Make a list of 25 things you'd like to let go of—behaviors, patterns, relationships, mindsets, beliefs, etc.
Bonus: safely burn the piece of paper as a fire ritual for release.
Write a letter to someone to say goodbye. Usually this isn't a letter to send, it's a way to process and say what you need to say as a ritual for release. You could also safely burn it, too, if you like.
Make a list of 25 things you'd like to bring into your life–how you want to feel, something you want to manifest or create, a goal or relationship; this can be as concrete or as abstract as you like!
Buy or pick fresh flowers or a plant to anchor this guided soul healing session.
Create a collage with magazines or make a board on Pinterest. You could do one for "Letting Go" and one for "Possibility".
Here's one I created for Letting Go: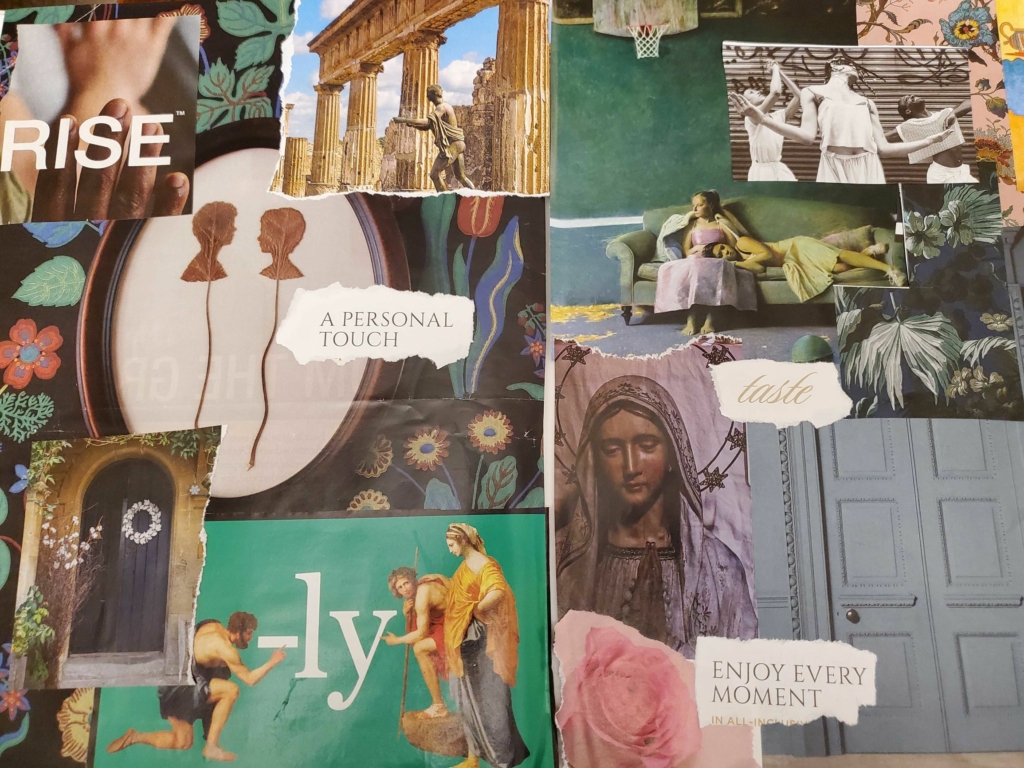 Soul-Tapping Technique:
Here's a reminder of how to do the Soul-Tapping technique.
Bonus option: I invite you to do this for 21 days to clear out and release stuck energy.
Ask your soul to guide you where to tap. (If it feels like you're making it up, go with it, there's no right or wrong way to do it.) Ask you hands to go where they need to go and maybe it will be similar places each time, or maybe it will change depending on the day. Pay special attention to the upper chest to increase motivation.
Flower Essences to Help Release the Past & Move Forward:
Here are some specific flower essence suggestions to support you with our theme:
Honeysuckle for regret, nostalgia or feeling stuck in the past
Star of Bethlehem for grief, sadness, and depression around a loss
Mimulus for feeling worried about your ability to succeed with a future project or goal
Larch for confidence, especially when you're quite capable but it's hard to move forward
Gentian for feeling negative about moving forward because you encountered a set back in the past
Impatiens when you're impatient to move forward and feel like it's not happening fast enough
Rescue Remedy to re-align your soul|heart|mind|body, release past trauma, and attune to your own soul's wisdom
Wild Oat if you're not sure of your purpose or next steps.
Here's an expanded FAQs on how to take flower essences, where to purchase, and more:
Info on Flower Essences
These are all optional ideas for integrating the group session. Pick 1 or 2 or come up with your own. Have fun!