Is Reiki III Training Right For Me?
Posted on February 24, 2015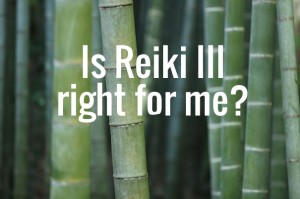 Reiki III (also referred to as Reiki Master training) is the final level in the system of Reiki. This advanced training helps you bring Reiki into your life in a powerful way, both in your personal life and/or to prepare you for professional practice.
If you're asking yourself if Reiki III is right for you, here are some of the frequently asked questions I get from prospective students.
Frequently Asked Questions
What type of Reiki do you practice?
I was trained in both Eastern and Western traditions of Reiki, and my approach in my teaching is to blend the two with emphasis on the traditional Japanese teachings. I meditate and practice daily Reiki self care. You can read more about my Reiki lineage here.
How long do I need between Reiki II and Reiki III?
I recommend you get some practice from Reiki I and II under your belt before taking Reiki III. Your own self practice is as important (if not more!) as what you learn in class. While the amount of time will vary from student to student, a minimum of 3-6 months is suggested between Reiki II and Reiki III. Two questions to consider: Are you practicing and meditating fairly regularly? Are you interested in learning more? If you're not sure, I'd be happy to talk with you about this.
Do I need to have taken Reiki I and II at the Center for True Health?
It's not necessary to have taken Reiki I & II at the Center for True Health. Meditating and practicing Reiki self care regularly is important before beginning the Reiki III training. We will also review elements learned in Reiki I and II in the first evening of class.
Is Reiki III the same thing as Reiki Master class?
Yes. I tend not to use the term Reiki Master as much, since the system of Reiki is such a life-long practice toward mastery!
What will the Reiki III training cover?
In Reiki III you'll learn the Reiki Master symbol and mantra, eight Japanese healing techniques to be used during a Reiki session and how to work intuitively,  and how to give attunements (reiju). We'll also discuss the ethics of touch and energetic boundaries, and how to explain what Reiki is in clear and concise terms. You'll experience several guided meditations and will give and receive lots of full sessions.
How is this class different than a Reiki III two-day class?
Because this training takes place over the course of four months, you'll have a supportive environment to integrate what you learn over time and ask questions as things arise in your practice. At the beginning of each class, we briefly review what we covered in the previous class. There will also be plenty of time to practice what you learn–including giving and receiving numerous Reiki sessions (this is usually a favorite!)
Will this class prepare me to teach Reiki to others?
This training is geared toward becoming a professional practitioner and/or for your own self development. While you will learn how to give attunements, giving yourself time to fully take in and practice what you learn in Reiki III is recommended before starting to teach Reiki, and additional training is suggested.
Will I receive a Reiki certification after completing this class?
There are certification requirements at the end of the program including: giving and receiving a certain number of sessions, completing written assignments, practicing self care, etc.. You have two years from the date of the last class to complete these requirements, and once you've completed them, I will send you a beautiful certificate.
What if I'm not sure if I want to become a professional Reiki practitioner? What if I'm not sure if I'm ready in general?
Personally, I didn't feel ready when I signed up to take Reiki III–I wasn't confident of my Reiki abilities. All I knew was that I loved this work and wanted to learn more. Did I think I would become a professional practitioner and see clients full time, let alone become a Reiki teacher? Absolutely not! And this was part of the beauty of my journey–letting things unfold as I incorporated Reiki into my life.
Past students are using Reiki in unique ways–some are seeing clients, some are focusing on their own well being and healing, some are using it to balance their very hectic and stressful existing professional careers, while others have found it helpful in healing their personal relationships. If it feels right, I invite you to see how Reiki can unfold in your life.
Past Graduates
Here's what past students say about their experience in the Reiki III program:
I see Deborah for Reiki sessions, and she is also my Reiki teacher. The results have been nothing short of mini-miracles.  Since I learned Reiki, I've quit smoking, gotten off medication, and become more passionate about my life in general. My advice: if you're struggling in any area of your life take a Reiki class or get a session, and be open to the possibility of shifting your life and watch for the transformation.  You'll thank me! Thank you for the experience of this class, Deborah: you are helping to  enhance our lives so very much." — Joe L.
This program focused on more advanced techniques of Reiki and on starting a professional practice. In class, we performed these advanced techniques on each other while lying on the Reiki table and it was always a very comforting experience. Also, I noticed that the class really honed my psychic intuition. I did not really have a strong desire to start my own professional Reiki practice, but I still felt that the Reiki III program was an extremely valuable experience for me. Out of all Reiki I, II and III, Reiki III was my favorite! Our small class had a very supportive environment: we developed a strong shared connection through Deborah's guidance. The best part of the program for me were exercises which let us experience and learn that there are so many possibilities with Reiki. These possibilities felt quite magical and deeply bonded our class. It was so heart-warming at the end of the program when we affirmed each other of the positive transformations we noticed. I wish our Reiki III class never ended!  —Stephanie C.
This class was amazing and I feel like I've been reborn with new perspectives on life and the world. –Ana R.
Really loved how simple and down-to-earth, yet deep and fulfilling the class was. Before I took the Level 3 class with Deborah, my life was split in two: Reiki practice and the rest. In addition to her knowledge of Reiki, Deborah—by being grounded, caring, wise, supportive and overall non-judgmental—guided me towards a deeper practice. A practice that is starting to integrate into my life, instead of being used as a way to escape it. And that is a wonderful gift.  —Nathalie J.
My experiences taking Reiki I and Reiki II were so wonderful that I didn't hesitate for a moment to enroll when Deborah offered the chance to continue to advance my practice with a Reiki III class. The class was so well thought out, with plenty of opportunity to practice and experience what we were learning. She designs her classes to be small and intimate, and that really lends to the feeling of being part of a special group of people. I have made great connections with my fellow classmates that continue to this day. I so highly recommend any of Deborah's classes and feel so blessed to know her and share space with her. Trust me, you will not be sorry! –Kelly Y.
Want to learn more about Reiki III?