How to Relax (Even if you're too busy)
Posted on December 5, 2013
Ever feel too busy to relax?
If you're looking for something powerful, yet easy, to help you, the next Reiki I class starts Tuesday, December 10th.
When I took Reiki I years ago, I had no idea it would be the single most important resource in my life: helping me relax no matter what's going on.
I was also surprised at how it helped in so many areas of my life: health, relationships, career, creativity. Perhaps some of these are things you're looking for support with in your own life?
In Reiki I, you'll learn self-treatment techniques, meditations, and a chair protocol to use Reiki with friends/family. You'll be able to practice Reiki on yourself after just the first class.
And the very best part: these powerful tools and techniques can leave you feeling relaxed and centered in less than 5 minutes. Even if your super busy.
Here are even more benefits. (The sky's the limit!)
You can book here or send me an email with any questions.
Our Reiki I class selfie!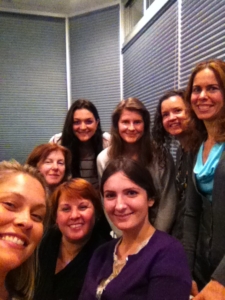 Here's what one student said:
It was truly a splendid experience. Deborah is a great teacher: kind, attentive, thoughtful, and well spoken.
The class was spread over a month, which I loved because when questions came up I knew that I'd be able to ask her at the next class. It also gave me time to become comfortable with using Reiki on myself, before working with friends/family.
Deborah started each class with a lovely centering meditation and discussion. I felt very comfortable with her and my classmates–the group had a great vibe. I highly recommend!. –Lauren M.