Chill Out Workout For Your Feet
Posted on May 30, 2013
Recently, I taped a reflexology segment for Jeff Halevy's show, Workout From Within, on Veria Living TV (a health/wellness network). It aired last week, but you can see the 5-minute segment here.
It was fun to do, especially because my all-time favorite sister came with me as moral support (visiting all the way from Hawaii no less).
The Veria Living segment gives you a chill out workout for your feet and offers tips you can do at home to help with mental stress (who doesn't have that?!), digestion, and back pain.
Remember, any time you can take time out of your day to interrupt stress your body will thank you. Ready to interrupt stress?
I'm not sure if it's possible, but I think my sister might be an even bigger fan of reflexology than me. This is the photo she sent me: multi-tasking with her various reflexology gadgets.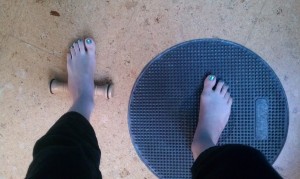 For more reflexology gadgets, see my previous post. Let me know how it goes!