Posted on May 15, 2015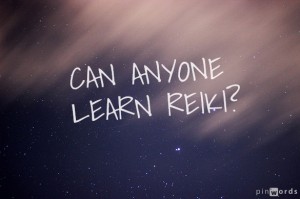 Can Anyone Learn Reiki?
This was a big question for me when I was thinking about taking a Reiki class years ago. I thought maybe only people with a special gift could learn Reiki, and I was more than a little nervous on my first day of class.
The short answer is yes–anyone can learn Reiki. (Reiki is a hands-on healing technique from Japan and means "transcendent life force." The practice of Reiki guides this "Ki," or energy, that is a part of every living thing.)
Hands on healing is our natural ability (just think about how you feel better when someone gives you a hug or holds your hand).
Find out more below about the types of Reiki training available and the different levels, if you can you teach yourself Reiki, and what the difference is between getting a Reiki session and learning to use Reiki on yourself.
Type of Reiki Training & Levels
Traditionally, there are 3 levels of Reiki training: beginner, intermediate, and advanced–Reiki I,  Reiki II, and Reiki III (Reiki Master) classes–as well as additional teacher training if you want to teach Reiki classes.
Training for each level varies from 1-2 days to spreading out training over a longer period of time. I structure my Reiki trainings over several weeks for each level, so you have time to practice between class and start to make Reiki a daily habit, as well as have the opportunity to ask questions with the support of the teacher, fellow students, and classroom setting.
Can You Teach Yourself Reiki?
Sometimes students tell me they notice they have a healing ability but they feel overwhelmed by it, or they feel worried or unsure about how to use it.
Reiki classes give this natural ability a structure and foundation, allowing you to expand your innate capacity. Additionally, having a teacher's guidance can be helpful whenever you're learning something new.
Once you've learned some basic techniques, you'll have the ability to give yourself a mini-Reiki session and practice simple Reiki meditations every day, contributing to your own healing.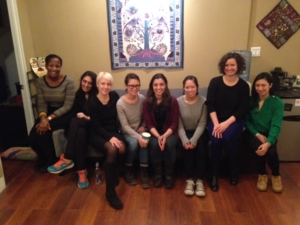 What is the Difference Between Receiving a Reiki Session
& Learning Reiki?
A prospective student recently asked me this question, and it's a good one.
Learning Reiki allows you to take your healing into your own hands (literally) and go deeper with a daily mindfulness practice.
Receiving Reiki sessions is wonderful and a great source of additional support and guidance (I get sessions regularly as well), but having a daily self care practice is empowering and something that will last a life time if you use it regularly.
If you're interested in learning Reiki, you can find out more about upcoming classes and let me know if you have any questions.
And here's a recent article about 5 benefits you'll notice in your life by learning Reiki.