Building a Powerful Wellness Practice
Posted on February 20, 2018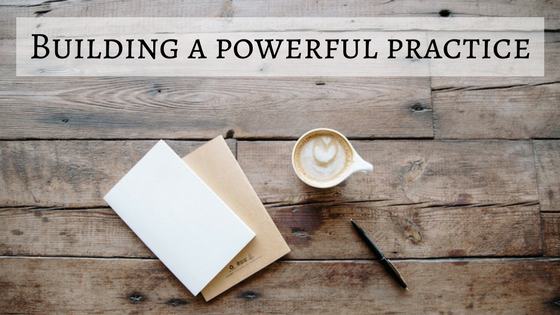 I recently participated in the 2018 winter Reiki Healing Summit, which featured 38 Reiki Masters and Teachers from around the world, and I wanted to share 10 highlights from my interview. I was interviewed by Reiki Rays about my book, Building a Powerful Practice: Successful Strategies for Your Wellness Business, and addressed some of the common pitfalls and concerns of wellness practitioners dealing with the business side of practice building.
As a wellness practitioner, you have an amazing opportunity to help people who really need it. Yet so many practitioners struggle to make a living doing the work they love.
I had to figure out the nuts and bolts of starting a business from scratch, and I wanted to share what I learned, as well as advice from other accomplished practitioners and teachers, to make it easier for new practitioners.
Here are 10 key things no one tells you about starting your own wellness business:  
1. Don't quit your day job.
If you're making a career transition to a wellness practice, don't give up your day job! It takes time to build a strong client base with enough clients to sustain a full-time wellness practice. An additional income source—from a full-time job or part-time work—can help you worry less as you build your practice.
2. Specialize.
Figure out the kinds of client issues and challenges you especially enjoy working with. This will set you apart and help the right kinds of clients find you.
3. Experiment & be open.
Building a successful wellness practice is hard work, and there will be ups and downs along the way. Be in an open mindset as you experiment with different ways of running your business and finding new clients.
4. Get organized.
Develop a system for keeping track of client information, income and expenses, and tax payments. Maintaining order in the administrative and financial aspects of your business will allow you to focus more on the work you love: helping clients.
5. Limit your client hours.
I know! This one sounds surprising but treatment hours are very different than working full-time at other kinds of jobs. With this work, you need to be very present for your wellness clients, and it can be taxing emotionally and physically. Seeing clients full-time is 15-20 hours a week in terms of treatment hours.
6. Monitor your growth.
Speaking of treatment hours, as you grow your practice and do more sessions in a day, be mindful of this growth: it's all the more important that you take time to take care of yourself and have a strong meditation and self care routine.
7. Set a consistent schedule to see clients.
It may seem counter-intuitive, but being clear about the days and times that work best for you will make it easier to book clients rather than asking prospective clients when they want to come in. For example: "I see clients on Tuesdays and Thursdays between 6pm-8pm."  This provides a clear container and boundary. It also comes across as professional to your prospective clients.
8. Don't offer a sliding scale or pay-as-you-wish.
If you're not in a financially stable position with your practice, how can you possibly offer pay-what-you-wish sessions? Each person will need to make this decision for themselves, but I think it's essential to remember that you need to be able to take care of yourself and your financial needs to better be able to take care of others. 
9. Figure out how to avoid burn out.
As you figure out a schedule that works for you, consider having a set time when you "turn off"—for example, maybe you don't do work in the hour before bed, or maybe Sundays are reserved for downtime. Figure out when you work best, as you find balance between work time and downtime. 
10. Take good care of yourself.
Schedule wellness sessions for yourself on a regular basis. (Hint: this will also help you become a better practitioner, as you learn about the work you do from the inside out and address your own issues and challenges.)
P.S. Want more real-world advice and recommendations? You can get Building a Powerful Practice on Amazon or Nook.
To learn more about the book, get a free online Business Starter Kit, and to read a sample chapter of the book, read more here. Basically, I want to make it as easy as possible for you to get your wellness business up and running!